| | | | |
| --- | --- | --- | --- |
| | EURUSD | 1.2941 | 1.2944 |
| | GBPUSD | 1.5104 | 1.5107 |
| | USDJPY | 101.59 | 101.62 |
| | USDCHF | 0.9671 | 0.9674 |
| | USDCAD | 1.0322 | 1.0325 |
| | EURJPY | 131.48 | 131.51 |
| | EURCHF | 1.2515 | 1.2518 |
| | GBPJPY | 153.41 | 153.48 |
| | GBPCHF | 1.4606 | 1.4613 |
| | GOLD | 1388.96 | 1389.56 |
Us Crude Inventories Surge to Highest Level Since Aug 1990, Products plunges eia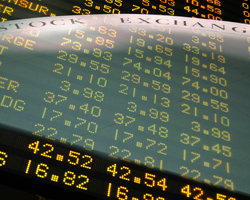 U S crude inventories rose 1.16 million barrels to 44.13 million barrels in the week to May 4.
Domestic stocks of crude, excluding oil held in the Strategic PetroleumReserve, rose by 3.65 million barrels to 379.52 million barrels in the week,
Domestic gasoline inventories plummeted by 2.61 million barrels to 207 millionbarrel
The West Coast saw the biggest loss, down 2.1 million barrels, while theEast Coast saw a build of 276,000 barrels.
Distillate inventories fell by 3.25million barrels, the seventh straight week of draw downs.
The East Coast reported the biggest drawdown, off 1.95 million barrels, withall other regions showing smaller declines.
Published: 2012-05-09 16:26:00 UTC+00
| | | |
| --- | --- | --- |
| | See also: Current support and resistance levels | |
EUR/USD
GBP/USD
USD/JPY
GBP/JPY
EUR/CHF
AUD/USD
$(this).corner("10px");
Ticarət Alətləri
The best instruments for successful online Forex trading.