| | | | |
| --- | --- | --- | --- |
| | EURUSD | 1.2903 | 1.2906 |
| | GBPUSD | 1.5069 | 1.5072 |
| | USDJPY | 101.68 | 101.71 |
| | USDCHF | 0.9665 | 0.9668 |
| | USDCAD | 1.0338 | 1.0341 |
| | EURJPY | 131.2 | 131.23 |
| | EURCHF | 1.2473 | 1.2476 |
| | GBPJPY | 153.17 | 153.24 |
| | GBPCHF | 1.4565 | 1.4572 |
| | GOLD | 1384.59 | 1385.19 |
GBP/CHF is about to test 1.4790 2012-04-24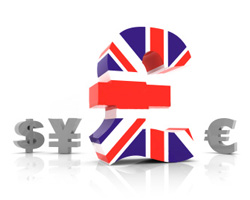 Technical Outlook:

The GBP/CHF pair is trying to test and possibly break through the resistance level 1.4790. Furthermore, the new channel line will provide support in case of any pullback. Immediate support is seen at the 1.4640 level. If bears are going to regain control, the level 1.4640 should be broken in 1-2 trading sessions. Resistance remains strong at 1.4790 level. We are still holding short positions with stop at 1.4790.



Show full picture

Chart Setup:

If the bulls are able to hold above 1.47, they will try to break though the resistance level 1.4790 in coming sessions. S1 1.4640 levels now and it is further supported by the rising channel line at 1.4520, 1.4310 and 1.4200. If channel line is broken through, bears will regain control and the next downside target will be seen at 1.42 level. On the other hand, as long as the time prices are above 1.4640, we can expect the pair to reach new highs.

Trade Recommendations:

Holding Shorts from 1.4520/40 levels, Stop at 1.4790, Target below 1.4200. Active traders could open fresh short positions at current levels, as Risk/Reward ratio is favorable.

Best Regards,
Performed by Harsh Japee, Analytical expert
InstaForex Group © 2007-2013

$(this).corner("10px");
Trading Instruments
The best instruments for successful online Forex trading.