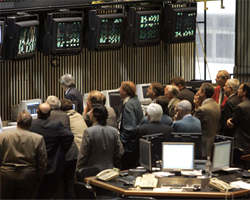 Quotes from RBS:
-We have been forecasting 1.02 into mid-year for the AUD based on expectations that the RBA would cut rates into mid-year, rising political uncertainty in Australia, the prospect of a tight budget and increasing stress in Europe. To a large extent all the risk factors have come to fruition and are becoming built into the Australian rates market and the AUD.
-As such we may be closer to the point where the potential negatives are priced in. However, there is no obvious reason to anticipate any of these risk factors are going to ease up in the near term. Uncertainty remains very high, especially around Europe.
-As such, any bounce in the near term appears likely to be muted, and the risk is high of a further slide. AUD rates and AUD will continue to act as the bellwether for risk and uncertainty, and it is too early to bet that the bottom is in for the AUD.
publié: 2012-05-09 12:24:00 UTC+00