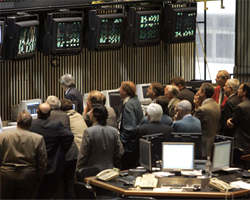 Foreigners were net sellers of Japan bonds and stocks last week.
Japan's Ministry of Finance reported Thursday that foreign residents sold 63.1 billion yen more in Japan stocks than they bought for the week ending April 21.
Foreigners sold a net 6.7 billion yen worth of Japan based bonds and notes for the week.
Japan residents, meanwhile, were net purchasers of 43.2 billion yen worth of foreign stocks for the week.
Japanese residents were net sellers of 1.17 trillion yen in foreign bonds for the week.
Published: 2012-04-26 00:57:00 UTC+00