| | | | |
| --- | --- | --- | --- |
| | EURUSD | 1.2837 | 1.284 |
| | GBPUSD | 1.5167 | 1.517 |
| | USDJPY | 103.23 | 103.26 |
| | USDCHF | 0.9725 | 0.9728 |
| | USDCAD | 1.0279 | 1.0282 |
| | EURJPY | 132.5 | 132.53 |
| | EURCHF | 1.2481 | 1.2486 |
| | GBPJPY | 156.5 | 156.57 |
| | GBPCHF | 1.4749 | 1.4756 |
| | GOLD | 1359.37 | 1359.97 |
Oil review for May 26, 2011 2011-05-27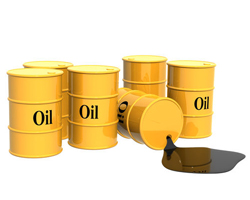 On Thursday futures on oil closed with a loss after a series of disappointing data on the US.
By the end of NYMEX trades quotations of July futures on low-sulfur oil dropped by USD 1.09 to constitute USD 100.23 per barrel. Futures on Brent oil gained 12 cent (0.1%) on ICE; their price is now USD 115.05 per barrel.
The number of initial jobless claims last week grew, the US Agriculture Department informs. It surprised economists and indicated that the market situation is still ambiguous.
According to the data provided, the number of initial jobless claims in the USA for week ending May 21, increased by 10000, taking into consideration seasonal correction, up to 424000. Economists had expected this index to drop by 4000. The US Labour Department said that the national GDP gained just 1.8% in the first quarter while it rose by 3.1% in the fourth quarter of 2010. Economists had supposed that the GDP growth would equal 2.2%.
Meanwhile, on Thursday the US Labour Department revealed positive assessments of financial state of national companies at the end of the first quarter. Following its estimation, the profit of American companies for the investigated period grew by 1.7 trillion US dollars in the first quarter as compared to the same period of last year. This is the most impressive gain since the statistics research of this index was launched in 1947.
Oil market participants have been thoroughly monitoring the data on the US economy. At the same time, active demand in developing countries such as China contributed to the stable growth of oil prices during last year. The adverse data on the US economy published recently hindered oil prices growth. This data together with concerns over high oil prices had some negative impact on the global economy growth: they led to drop of oil prices on NYMEX from high for 2.5 years USD 114.83 registered on May 2.

Show full picture
Performed by , Analytical expert
InstaForex Group © 2007-2013

$(this).corner("10px");
Strumenti di trading
I migliori strumenti per un trading online
di successo a Forex