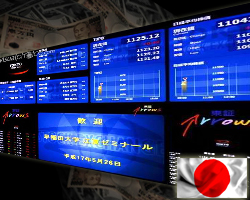 The Japanese yen slipped against other major currencies in early Asian trading on Thursday after a government report showed that the country turned to a trade deficit in March, compared to an unexpected surplus in February.
Japan saw a merchandise trade deficit of 82.55 billion yen in March, the Ministry of Finance said - beating forecast for a shortfall of 223.2 billion yen following the 29.4 billion yen surplus in February.
Exports were up 5.9 percent on year, also blowing past expectations for an increase of 0.2 percent following the 2.7 percent contraction in the previous month.
Imports climbed an annual 10.5 percent versus forecasts for a gain of 7.0 percent after rising 9.2 percent a month earlier.
The yen that closed yesterday's deals at 130.21 against the pound, 106.65 against the euro and 88.75 against the franc touched near a 2-week low of 130.71, 9-day lows of 107.02 and 89.04, respectively. The next downside target level for the yen is seen at 131.00 against the pound, 108.00 against the euro and 89.5 against the franc.
The yen dropped to 81.56 against the U.S. dollar and 84.56 against the Australian dollar with 82.00 and 85.00 seen as the next downside target levels, respectively. At yesterday's close, the yen was worth 81.26 against the greenback and 84.19 against the aussie.
Against its Canadian and New Zealand counterparts, the yen edged down to 82.33 and 66.69 from yesterday's close of 82.00 and 66.33, respectively. The yen ended Wednesday's deals at 83.00 against the loonie and 67.5 against the kiwi.
These are no major economic reports due in the upcoming European session.
In the New York session, U.S. weekly jobless claims for week ended April 14 and existing home sales for March are likely to influence trading.
Published: 2012-04-19 03:51:00 UTC+00