| | | | |
| --- | --- | --- | --- |
| | EURUSD | 1.2914 | 1.2917 |
| | GBPUSD | 1.5142 | 1.5145 |
| | USDJPY | 102.54 | 102.57 |
| | USDCHF | 0.9705 | 0.9708 |
| | USDCAD | 1.0274 | 1.0277 |
| | EURJPY | 132.42 | 132.45 |
| | EURCHF | 1.2532 | 1.2537 |
| | GBPJPY | 155.22 | 155.29 |
| | GBPCHF | 1.4695 | 1.4702 |
| | GOLD | 1378.38 | 1378.98 |
Fractal analysis of the EUR/USD. Trading recommendations 2010-06-02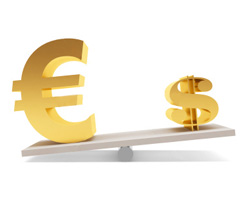 We observed the cancelation of initial conditions development from May 26 for the EUR/USD pair and for now there is a small potential for the development of the high from June 1 here, which is also confirmed by the USD/CHF pair.

Forecast for June 2:




Show full picture

Today, for the EUR/USD, the important levels are: 1.2624, 1.2558, 1.2505, 1.2414, 1.2363, 1.2191, 1.2144, 1.2065, 1.2032 and 1.1875. There is a small potential from June 1 here for the uprising movement continuation from June 1. A short-term high is expected in the range of 1.2363 – 1.2414, the breakout of the last reading should be accompanied by an impulse movement to the level of 1.2505, the price consolidation is in the corridor of 1.2505-1.2558. The level of 1.2624 is considered a potential reading for the top, after reaching of which a downward pullback is awaited. A correctional movement development is possible in the range of 1.2191-1.2144, the breach of the last reading will lead to the cancelation of the development of the upward structure from June 1, and in this case, the target is 1.2065. The price passage of the noise diapason of 1.2065-1.2032 should be accompanied by clear descendant movement, here the potential target is 1.1875.
Trading recommendations:
Buy: 1.2414 Take profit: 1.2505
Buy: 1.2150 Take profit: 1.2363
Sell: 1.2140 Take profit: 1.2065
Sell: 1.2030 Take profit: 1.1880


Aleksey Almazov is taking part in the "Analyst of the Year" award organized by MT5.com portal. If you like his article, please vote for him.
Performed by Aleksey Almazov, Analytical expert
InstaForex Group © 2007-2013

$(this).corner("10px");
Trading Instruments
The best instruments for successful online Forex trading.