| | | | |
| --- | --- | --- | --- |
| | EURUSD | 1.2933 | 1.2936 |
| | GBPUSD | 1.5104 | 1.5107 |
| | USDJPY | 101.89 | 101.92 |
| | USDCHF | 0.9689 | 0.9692 |
| | USDCAD | 1.0305 | 1.0308 |
| | EURJPY | 131.78 | 131.81 |
| | EURCHF | 1.2531 | 1.2536 |
| | GBPJPY | 153.85 | 153.92 |
| | GBPCHF | 1.4634 | 1.4641 |
| | GOLD | 1391.23 | 1391.83 |
Fundamental market review for August 31, 2011 2011-08-31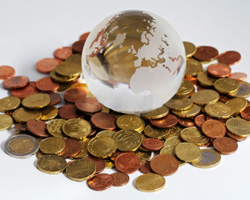 The US dollar dropped versus the Yen and euro during the Asian trading session on Wednesday as investors have been discussing the likeliness that growing pessimism over the US economic prospects will contribute to stable low Treasury Bonds yield in the long run. The US dollar is very likely to weaken further as the yield of the Treasury Bonds is declining which is a signal of worse consumer sentiment and business climate in relation to the world's largest economy, Nomura Trust and Banking senior dealer Hideki Amikura says. Such expectations gained support of Federal Reserve Bank of Chicago president Charles L. Evans: he made comments suggestive of inclination to a milder policy. He insists on a necessity to continue implementing the programme of quantitative easing. In early August the US central bank discussed a series of unconventional tools to sustain the economy. Yet some regulators called for new dramatic measured to take in order to stimulate fading recovery. Before promising to keep the interest rate near zero level at least up to 2013, the Federal Reserve System checked its current funds, including relation of the interest rate to the unemployment level or inflation rate.
The FRS actions may be assessed at its next meeting slated for September 20. Investors will be relieved at the US unemployment rate on which the data is due for release this week.
Automatic Data Processing is to publish the data on working places in the US private sector in August. According to the median forecast of economists the number of working places is to grow by 100 000 as compared to the previous month. Chief currency strategist at Barclays Capital Masafumi Yamamoto says that the data may well fall short of the expectations. It will urge market participants to sell the US dollar and prefer the Yen shelter-currency to it.
Performed by , Analytical expert
InstaForex Group © 2007-2013

$(this).corner("10px");
Trading Instruments
The best instruments for successful online Forex trading.