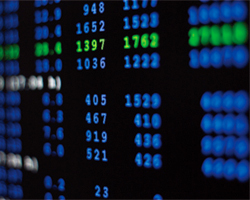 During early new York trading on Friday, the Japanese yen spiked up against major opponents following the release of U.S. non-farm payrolls and unemployment rate data for March.
The U.S. Labor Department said that non-farm payroll employment increased by 120,000 jobs in March following an upwardly revised increase of 240,000 jobs in February. Economists had expected the addition of about 201,000 jobs compared to the increase of 227,000 jobs that had been reported for the previous month.
Despite the weaker than expected job growth, the unemployment rate unexpectedly edged down to 8.2 percent in March from 8.3 percent in 8.2 percent in February.
At 8:40 am ET, the yen climbed to near 1-month highs of 81.33 against the US dollar, 106.62 versus the euro, 88.78 against the franc, 81.57 against the loonie and 129.20 versus the pound.
Publikuota: 2012-04-06 13:58:00 UTC+00