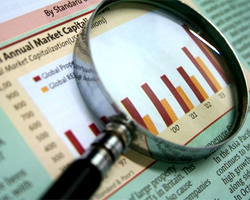 China's manufacturing activity shrank for a sixth consecutive month in April, but the pace of decline eased from a month earlier owing to slower contraction in output, new orders and employment, a key survey revealed Monday.
The HSBC/Markit purchasing managers' index rose to 49.1 in April from 48.3 in March. However, the reading below 50 still indicated a contraction in activity.
The manufacturing output index also remained below the neutral mark at 49.1, up from 47.3 in March. The rate of decline in overall new orders and new export orders eased in April, according to the report. Employment also contracted at slower pace compared to March.
HSBC Chief Economist Hongbin Qu said the April report suggested that the earlier easing measures have started to work and hence should ease concerns of a sharp growth slowdown.
"That said, the pace of both output and demand growth remains at a low level in an historical context and the job market is under pressure. This calls for additional easing measures in the coming months. We expect monetary and fiscal easing to speed up in 2Q," the economist added.
In its latest policy-easing move, the People's Bank of China cut the reserve requirement rate for all commercial banks by 50 basis points for the second time in three months in February to boost lending amid sluggish economic growth.
The Chinese economy expanded at the weakest pace in nearly three years in the first quarter of 2012, mounting pressure on the government for continued policy action to support economic activity. The gross domestic product expanded 8.1 percent year-on-year in the March quarter.
Earlier in March, the Chinese government trimmed its GDP forecast for 2012 to 7.5 percent.
International lending agencies have acknowledged the slowdown in China and trimmed their growth forecast for the nation. The World Bank has lowered its 2012 GDP forecast for China to 8.2 percent from 8.4 percent, citing a pronounced deceleration in investment growth, slowing consumption growth and weak external demand.
The Asian Development Bank slashed its growth projection for China to 8.5 percent in 2012 from 9.1 percent. The International Monetary Fund forecast China to grow 8.2 percent this year and 8.8 percent next year.
Publicēts: 2012-04-23 04:55:00 UTC+00