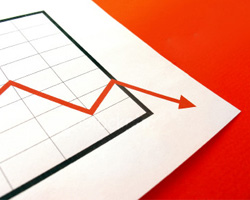 Standard & Poor's on Tuesday downgraded the outlook on Turkey's credit ratings, as less-buoyant external demand and worsening terms of trade are estimated to inhibit economic rebalancing.
The outlook on Turkey's long-term foreign and local currency sovereign credit ratings was lowered to Stable from Positive. The stable outlook reflects the assessment that the key risks to the Turkish economy will likely remain in balance in the next 12 months, the agency said.
The ratings are underpinned by its generally effective policy making and moderate and declining public debt burden as well as its monetary policy flexibility. Meanwhile, key constraints on ratings are its external vulnerability and risks related to the 2010-11 credit boom, the agency said.
S&P estimates Turkey's gross external financing needs to reach 142 percent of current account receipts plus usable reserves in 2012, one of the highest ratios for a rated sovereign. The heavy reliance on external savings exposes the nation to shocks.
Further, the rating agency estimates that the government will aim to stabilize net general government debt to GDP at around 35 percent by 2015.
Publicēts: 2012-05-01 11:34:00 UTC+00