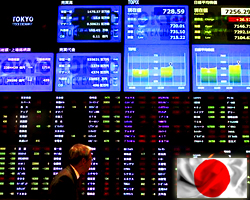 Quotes from Barclays Capital:
-We expect non-Japan Asian currencies to weaken versus the USD over the next month. This reflects our view that the recent pick-up in risk aversion related to the political stalemate in Greece and weaker-than-expected growth in China will persist at least until fresh Greek elections, which are likely to be on 17 June.
-As a result, we are revising our one- and three-month USD-Non-Japan Asia (NJA) forecasts higher. The largest revisions to our FX forecasts relate, in descending order, to the INR, KRW and the MYR, reflecting their relatively high sensitivity to global market sentiment, more limited appetite of India, Korea and Malaysia's central banks to intervene to support their currencies and weak India macro fundamentals. Beyond end-June, we think that fears of a Greek eurozone exit and a China 'hard landing' will recede and NJA currencies will slowly strengthen.
Published: 2012-05-18 10:11:00 UTC+00