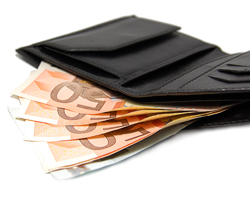 Germany's auction failed to augment bids for the maximum amount set for the issue on Wednesday.
The Bundesbank said the 10-year federal bond issue raised EUR 3.87 billion, which was well below the maximum target of EUR 5 billion. It received bids for EUR 4.11 billion.
The yield was 1.77 percent and the bid-to-cover ratio came in at 1.1.
Elsewhere, Italy raised altogether EUR 11 billion from short-term bills of 3-months and 12-months.
The yield on 12-month bills rose to 2.84 percent from 1.405 percent at the previous auction. Demand exceeded the offer by 1.52 times compared to 1.38 last month. The yield on 3-month bills was 1.249 percent and the bid-to-cover ratio at 1.81.
Published: 2012-04-11 12:55:00 UTC+00