Just three days before the end of the 2022 Dakar Rally, all hopes are over for the InstaForex Loprais Team crew in the trucks category. After a jump from a relatively small dune, the Praga V4S DKR had to stop with a steering failure. Luckily, the crew is unhurt.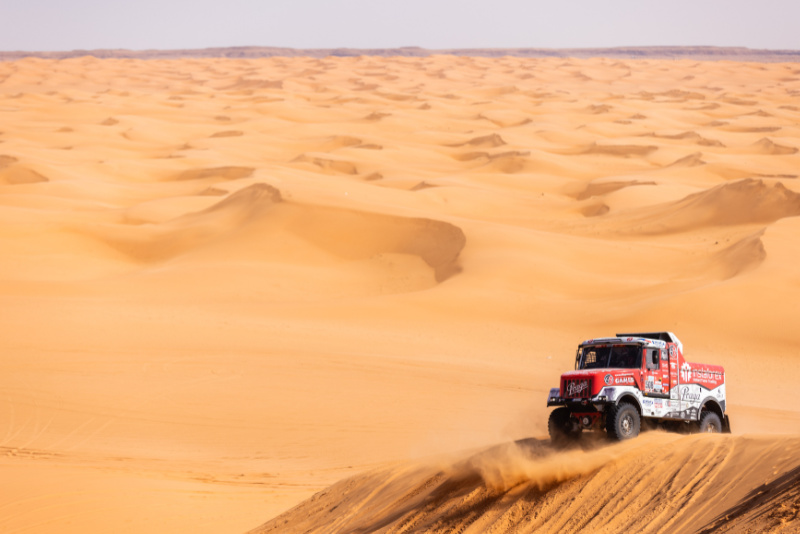 On Wednesday, January 12, the 2022 Dakar Rally continued with a stage from Wadi Ad Dawasir to Bisha, with Aleš Loprais, Jaroslav Valtr jr. and Petr Pokora holding fourth place in the trucks overall standings. However, their valiant battle against a factory Kamaz team ended prematurely after a rough landing from one smaller dune, just five kilometres after the start of the special stage.
We had lost our luck a bit today, as a power steering cylinder didn't survive a jump from one of the smaller dunes. We don't have this part with us, and the Lady can't turn in the desert without it. It's a bit weird, it was a pretty simple segment of the stage, yet a couple of us ended our journey here. There was a Can-Am that had rolled over right next to us, and Gert Huzink destroyed the chassis of his truck," describes Ales Loprais.
InstaForex Loprais Team support truck with mechanics went on to help Loprais and his crew. However, it is clear now that the Praga #508 truck will not be able to finish the tenth stage. As the rules state, the crew could still continue in the competition after fixing the truck. However, the price is high as they would be given a massive time penalty, ruling out any hopes for a decent result in the overall classification.
"Right now, I'm still not sure whether we can fix it and continue. Our goal was to be on the podium, even though it's getting harder and harder to succeed against the factory Kamaz trucks. However, we put on a valiant effort. We believed in a podium, and we were close. We were looking forward to tomorrow's stage that is supposed to be very exciting, but it didn't work out. That's Dakar. I really wanted to do it, especially for Karel, who was looking over us all the way through, and I believe that was the case even now. Despite we didn't make it, nothing serious has happened and we're all unhurt," he adds, showing that his uncle and a six-time Dakar winner Karel Loprais, who passed away just before this year's Dakar event, is still on his mind.
"Once again, I'd like to thank everyone for their support, especially our families, fans, and partners, who are with us in this big game. We really appreciate it, and we hope that you will stay with us even in the future," concludes Ales Loprais.