Ales Loprais, Khalid Alkendi and Petr Pokora finished the Dakar Rally 2021 in fifth place overall in the trucks category. The InstaForex Loprais Praga Team crew tried to push one more time, but a tyre puncture halted the efforts of the Praga V4S DKR.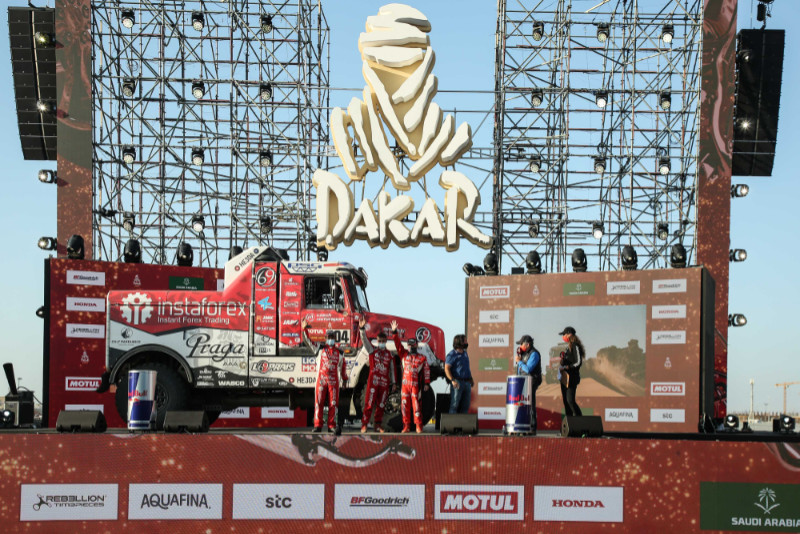 The twelfth stage of the Dakar Rally 2021 brought the competitors from Yanbu back to Jeddah, where it all started at the beginning of January. And it was not an easy day. On the contrary, Friday, January 15, offered a dramatic final stage. The organisers prepared a 202-kilometre-long last challenge, where the battles for positions continued across all categories. And even despite being so close to the end, some of the crews did not make it to the finish line.
In the morning, Loprais and his crew were 6 minutes and 20 seconds away from fourth place overall in the trucks category. And the Czech driver from Frenstat knew that the fight was on.
"Today, I got the maximum out of The Lady and myself. I wanted to make up for the loss we had yesterday, due to the technical issues. The route offered some dunes, that I enjoy so much and that's where I managed to get ahead of three trucks that had started ahead of me. I also flew across stones because we had nothing to lose, only to gain," explains Ales Loprais.
On a ninety-ninth kilometre waypoint, he was leading by 2:42 minutes ahead of Dmitry Sotnikov with Kamaz. And he was gaining 3:22 minutes on Martin Macik, who was in fourth place overall. However, the front-right tyre did not survive the push. It fell apart from the inside.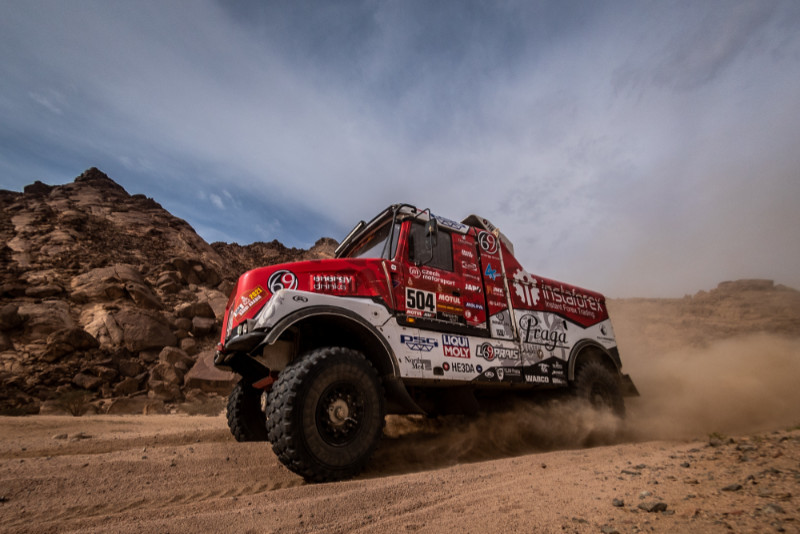 "I'm not sorry about it at all. We could have gained six minutes, as we led by three and a half minutes halfway through the stage. However, the podium wasn't just possible this year. The factory Kamaz team didn't hesitate for a second. Their team strategy is so perfect, that the others almost don't have a chance. I'm not saying that a podium is not possible, but they're dominating. On the technical side and sporting-politics aspects as well."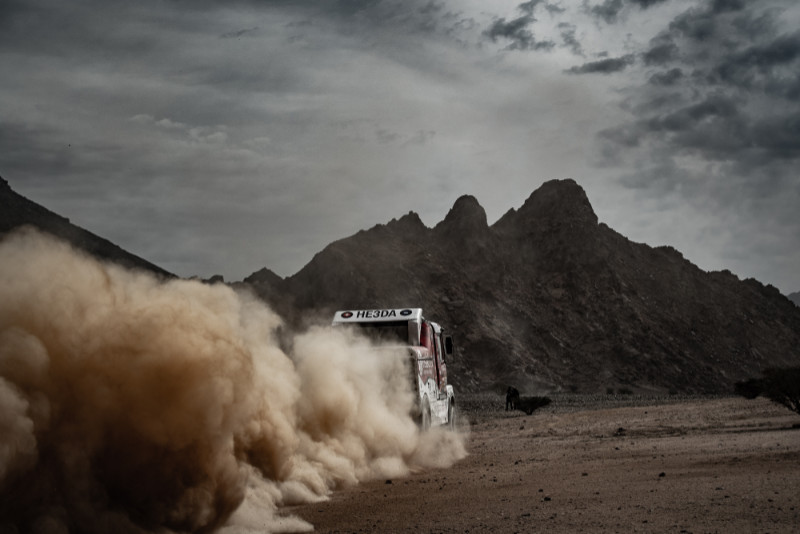 After fixing the tyre, Loprais with Alkendi and Pokora finished the stage eight minutes behind the winner. They have taken fifth place in the overall standings. For Ales Loprais it is his eighth finished Dakar Rally out of fifteen starts. Whenever he made it to the end, he was never worse than seventh in the overall standings. In 2007, he even took a podium with a third place finish. Later, he added two seventh place finishes, two sixth place finishes, now two fifth place finishes as well. Once he was classified also in fourth place overall.
"This year, I'd like to especially thank our families, who have been there with us all the way. Also, our fans, who are incredibly loyal, and of course, our partners. Especially the INSTAFOREX company for their long-term support. Also, the Praga company for shielding our project, and other partners Chladek a Tintera, PSG, HE3DA and LOPRAIS DRINK 69. You all have helped our tremendously and we really appreciate it. It all wouldn't be possible without you," adds Ales Loprais, who is delighted with another Top 5 finish.