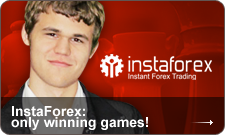 The number-one rated chess player paid a visit to InstaForex team which was held in homely atmosphere in the company's headquarters. Magnus Carlsen expressed a high opinion of the quality of provided services, gave valuable advice on development of the company and explained how understanding of chess strategies may contribute to success outside the chessboard's 64 squares. Furthermore, Magnus Carlsen handled blitz chess and a series of friendly games with an InstaForex official, International Master in chess.
InstaForex international broker and its top officials share Grandmaster's views and are convinced that intellectual perfection of its staff members enables InstaForex Company to achieve high results in rendering Forex services.
Magnus Carlsen gained dozens of victories in top chess tournaments, such as tournaments of the Grand Slam Chess Association (China 2009, the Netherlands 2010 and Romania 2010) and two tournaments of this year (Romania and Switzerland), which pushed him to the top of the World Chess Federation (FIDE) rating.
Find more about Magnus Carlsen's visit to InstaForex international broker at instaforex.com. The ablest man in the world chooses InstaForex!