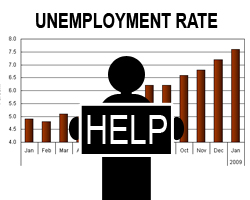 Greek unemployment rose to a new record high in December, as the ongoing austerity measures forced firms to cut jobs, data from the Hellenic Statistical Authority showed Thursday.
The jobless rate in December rose to 21 percent from 20.9 percent. In December 2010, the rate was 14.8 percent.
According to data published by Eurostat this month, unemployment rate in euro area also climbed to a record-high of 10.7 percent in January. Spain has the highest unemployment rate in Europe at 23.3 percent, closely followed by Greece.
?he number of unemployed in Greece amounted to 1.03 million in December, 40.9 percent higher than a year earlier. Compared with November, the number of unemployed rose 0.38 percent.
The number of employed persons decreased 7.9 percent year-on-year in December and was 0.05 percent lower than in November.
Published: 2012-03-08 10:33:00 UTC+00