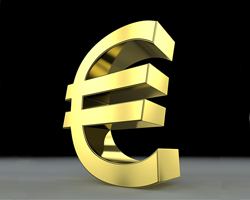 The dollar has continued to gain ground versus both the Euro and the pound sterling Thursday. Recession fears and concerns over the situation in Spain reduced investors' appetite risk. Investors are also worried that central banks are not planning to do more to support the recovery in the global economy.
The nine-member Monetary Policy Committee of the Bank of England decided to leave the quantitative easing unchanged at GBP 325 billion Thursday. Also, the committee retained the benchmark interest rate at its record low level of 0.50 percent.
The European Central Bank kept eurozone interest rates unchanged at a record low for the fourth month in a row yesterday, as the region's economy is likely to have entered a recession in the first quarter amid lingering concerns over the sovereign debt crisis.
The dollar has continued to gain versus the Euro since the release of the FOMC minutes Tuesday afternoon. The U.S. currency reached a 3-week high of $1.3068 on Thursday.
Germany's industrial production declined more than expected in February, data from the Federal Ministry of Economy and Technology showed Thursday. Industrial output dropped 1.3 percent in February from a month ago, offsetting January's 1.2 percent growth. Economists had expected a 0.5 percent decrease.
The greenback has also extended its recent gains against the pound sterling, reaching a high of $1.5804, its highest level since March 26.
The UK's industrial production increased 0.4 percent month-on-month in February, in line with economists' expectations, data from the Office for National Statistics showed Thursday. Manufacturing production fell 1 percent from a month earlier, while expectations were for a 0.1 percent increase.
The dollar has remained basically flat in comparison to the Japanese Yen on Thursday. The buck recovered from early losses in the afternoon, back to around Y82.35.
New U.S. claims for unemployment benefits fell to the lowest levels in almost four years, according to figures released Thursday by the Labor Department. For the week ended March 31st, the level of new claims for unemployment benefits came in at a seasonally adjusted level of 357,000, a decline of 6,000 from the previous week's revised figure of 363,000. While the previous week's figure was upwardly revised from the 359,000 initially reported, the latest week's figure still came in below the 360,000 predicted by most economists.
Published: 2012-04-05 18:27:00 UTC+00