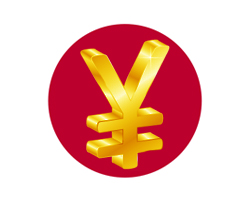 The dollar has continued to hold steady against its European rivals on Tuesday, but has weakened in comparison to the Japanese Yen. Good Friday's weaker than expected U.S. jobs report has continued to weigh on investors. The Yen's safe haven status has been a source of strength amidst the recent concerns over global economic growth.
The greenback has been steadily weakening against the Yen on Tuesday and has dropped to a one-month low of Y80.700. In March the dollar hit an 11-month peak above Y84.
The Bank of Japan on Tuesday maintained its benchmark interest rate near zero and refrained from announcing additional stimulus amid signs that economic activity is gradually gathering pace.
The BoJ noted that global economies have still not emerged from the soft patch, but U.S. economic conditions have continued to improve moderately. The European economic conditions have stopped deteriorating, the bank said.
The dollar has remained steady in comparison to the Euro, holding near the middle of a 5-day trading range, around $1.3090.
Eurozone investor confidence deteriorated for the first time in four months in April, results of a survey by the think tank Sentix showed Tuesday. The confidence index came in at -14.7 in April compared to -8.2 in March and -11.1 in February. This was the first decline in the index since December 2011. Moreover the outcome was worse than economists had forecast. Expectations were for a modest decline in the index to -9.1.
France's gross domestic product remained flat in the first quarter, the Bank of France reiterated in a monthly survey report on Tuesday.
Germany's merchandise trade surplus increased more than economists expected in February, data released by the Federal Statistical Office showed Tuesday. The trade surplus increased to EUR14.7 billion in February from EUR11.9 billion a year earlier. Economists were looking for a trade surplus of EUR12 billion.
The buck has strengthened a bit versus the pound sterling Tuesday, but has remained near the middle of a one-week range, around $1.5850.
A leading index of the British economy increased for the second consecutive month in February, data from a survey by Conference Board showed Tuesday. The leading economic index increased to 102.6 in February from 101.6 in January.
U.S. wholesale inventories rose by more than expected in the month of February, according to figures released Tuesday by the Department of Commerce, with wholesale sales also showing a notable increase. Inventories for wholesalers came in at a seasonally adjusted level of $478.9 billion in February, reflecting a 0.9 percent increase from January levels. Most economists had expected a more modest 0.6 percent increase in inventories.
Published: 2012-04-10 18:17:00 UTC+00