| | | | |
| --- | --- | --- | --- |
| | EURUSD | 1.2852 | 1.2855 |
| | GBPUSD | 1.5042 | 1.5045 |
| | USDJPY | 103.11 | 103.14 |
| | USDCHF | 0.9789 | 0.9792 |
| | USDCAD | 1.037 | 1.0373 |
| | EURJPY | 132.54 | 132.57 |
| | EURCHF | 1.2582 | 1.2587 |
| | GBPJPY | 155.05 | 155.12 |
| | GBPCHF | 1.4726 | 1.4733 |
| | GOLD | 1369.73 | 1370.33 |
Research: Relative Outperformance of Uk Bank Shares Since Mar-12 helped Eur/gbp Move Lower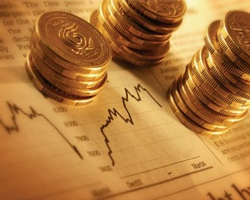 Quotes from RBS:
-Equity markets have been broadly range bound through most of April which has contributed to the loosening relationship between GBP TWI and risk. However it is worth watching EUR/GBP vs. the relative performance of Euro area/UK bank shares prices given the performance of financials can provide some insight into financial stability, money/credit creation and sovereign risks. The relative outperformance of UK bank shares since Mar-12 has helped EUR/GBP move lower. 
Published: 2012-04-30 12:15:00 UTC+00
| | | |
| --- | --- | --- |
| | See also: Current support and resistance levels | |
EUR/USD
GBP/USD
USD/JPY
GBP/JPY
EUR/CHF
AUD/USD
$(this).corner("10px");
व्यापार के उपकरण
विदेशी मुद्रा की सफल ऑनलाइन व्यापार के लिये बेहतरीन उपकरण.