| | | | |
| --- | --- | --- | --- |
| | EURUSD | 1.283 | 1.2833 |
| | GBPUSD | 1.5174 | 1.5177 |
| | USDJPY | 102.85 | 102.88 |
| | USDCHF | 0.9713 | 0.9716 |
| | USDCAD | 1.0283 | 1.0286 |
| | EURJPY | 131.96 | 131.99 |
| | EURCHF | 1.2464 | 1.2469 |
| | GBPJPY | 156.04 | 156.11 |
| | GBPCHF | 1.4739 | 1.4746 |
| | GOLD | 1348.17 | 1348.77 |
S&p Cuts Ratings of 5 Spanish Banks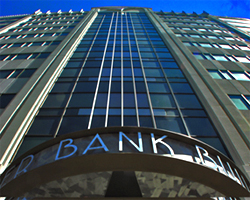 S&P cut the ratings on five Spanish banks but kept ratings unchanged for country's two biggest banks, Santander and Banco Bilbao Vizcaya Argentaria.
S&P slashed ratings on Banco Popular, Bankinter and Bankia to 'BB-plus' from 'BBB-minus'
And cut the ratings of two other banks, Banca Civica and Banco Financiero de Ahorros.
Published: 2012-05-25 18:08:00 UTC+00
| | | |
| --- | --- | --- |
| | See also: Current support and resistance levels | |
EUR/USD
GBP/USD
USD/JPY
GBP/JPY
EUR/CHF
AUD/USD
$(this).corner("10px");
व्यापार के उपकरण
विदेशी मुद्रा की सफल ऑनलाइन व्यापार के लिये बेहतरीन उपकरण.