| | | | |
| --- | --- | --- | --- |
| | EURUSD | 1.2842 | 1.2845 |
| | GBPUSD | 1.5192 | 1.5195 |
| | USDJPY | 102.63 | 102.66 |
| | USDCHF | 0.9692 | 0.9695 |
| | USDCAD | 1.0279 | 1.0282 |
| | EURJPY | 131.81 | 131.84 |
| | EURCHF | 1.2447 | 1.2452 |
| | GBPJPY | 155.88 | 155.95 |
| | GBPCHF | 1.4725 | 1.4732 |
| | GOLD | 1343.7 | 1344.3 |
The market manipulations analysis of the EUR/USD by Alexey Portnov for February 22, 2011 2011-02-22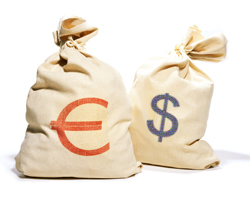 Seteleh kenaiikan yang diperkirakan, harga mengkoreksi ke level support sebelumnya. Pada saat ini euro mencoba area support 1,3540-60, dimana euro seharusnya mulai menaik. Apabila zona support ditembus, penurunan selanjutnya harus diharapkan; harapan saya adalah pencapaian pada level 1,3630.

Rekomendasi Trading:
- Tidak ada trading yang direkomendasikan

Show full picture
is taking part in the "Analyst of the Year" award organized by MT5.com portal. If you like his article, please vote for him.
Dilakukan oleh ahli analisa
InstaForex Group © 2007-2013

$(this).corner("10px");
Instrumen Trading
Instrumen terbaik untuk keberhasilan trading Forex online.