| | | | |
| --- | --- | --- | --- |
| | EURUSD | 1.2936 | 1.2939 |
| | GBPUSD | 1.5091 | 1.5094 |
| | USDJPY | 102.87 | 102.9 |
| | USDCHF | 0.9687 | 0.969 |
| | USDCAD | 1.0273 | 1.0276 |
| | EURJPY | 133.08 | 133.11 |
| | EURCHF | 1.2532 | 1.2535 |
| | GBPJPY | 155.2 | 155.27 |
| | GBPCHF | 1.4619 | 1.4626 |
| | GOLD | 1386.79 | 1387.39 |
Last week results. Review for September 26, 2011 (GOLD) 2011-09-26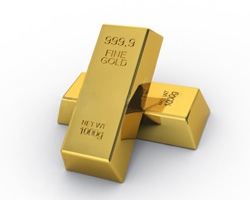 Last week the cost of raw commodities declined to its 9-month low. Gold, silver and copper cheapened most amid investors continuing leaving risky assets.
Standard & Poor's GSCI that reflects the dynamics of 24 raw commodities dropped by 2.2% on Friday which is the most considerable fall since December 2, 2010. The indicator lost 7.8% during the last week.

Show full picture
During the last few days investors grew more concerned about prospects of the global economic growth in the long run. The US FRS emphasized crucial risks for growth of the world's largest economy in its report following the two-day meeting. Moreover, the regulator underlined that the national unemployment rate has been still high. Earlier, on Tuesday, the IMF downgraded its forecast regarding the global economic growth for 2011-2012 to 4% each year.




Show full picture


On Friday investors were disappointed by the Swiss National Bank. The regulator brought its forecasts concerning the US and eurozone growth by 1.1% and 0.5% correspondingly. Now the Swiss National Bank expects that the US and eurozone GDPs will gain 1.6% in 2011.




Show full picture


Gold cheapened most for the last 5 years by the end of last week. Prices for December future on Comex fell by 5.6% on Friday (101.9USD). This is the most crucial quotation fall since 2006. By the end of trades one ounce cost USD 1639.80. The week decline constituted 9.7%.

Show full picture
Performed by , Analytical expert
InstaForex Group © 2007-2013

$(this).corner("10px");
व्यापार के उपकरण
विदेशी मुद्रा की सफल ऑनलाइन व्यापार के लिये बेहतरीन उपकरण.