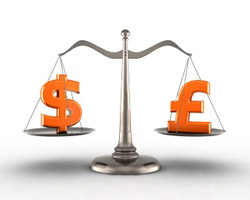 The pivot points of the GBP/ USD pair for this week are defined on the basis of the following table shown below. The weekly chart indicates the possible points or areas of the pair's resistance and support levels. The given chart will help you to define the places to set Take Profits and Stop Losses. These pivot levels help in trading as a map enabling to define the prospect uprise and downside movements of the pair.
Therefore, short positions are recommended at the level R1; long positions are recommended at the level S1. If the weekly pivot is considered as a target, it may be a viable strategy for swing trading. Otherwise the strategy will enable to open the long positions at the level S2 positions and short positions at the level R2 with weekly targets S1 or R1 (or the pivot point).
_____WEEKLY____
Weekly - R3 = 1.6035
Weekly - R2 = 1.5968
Weekly - R1 = 1.5816
Weekly Pivot = 1.5739
Weekly - S1 = 1.5597
Weekly - S2 = 1.5520
Weekly - S3 = 1.5378
Show full picture
_____MONTHLY____
Monthly - R3 = 1.6411
Monthly - R2 = 1.6202
Monthly - R1 = 1.6061
Monthly Pivot = 1.5852
Monthly - S1 = 1.5711
Monthly - S2 = 1.5502
Monthly - S3 = 1.5361
Show full picture
Gerardo Porras is taking part in the "Analyst of the Year" award organized by MT5.com portal. If you like his article, please vote for him.
Performed by Gerardo Porras, Analytical expert
InstaForex Group © 2007-2013