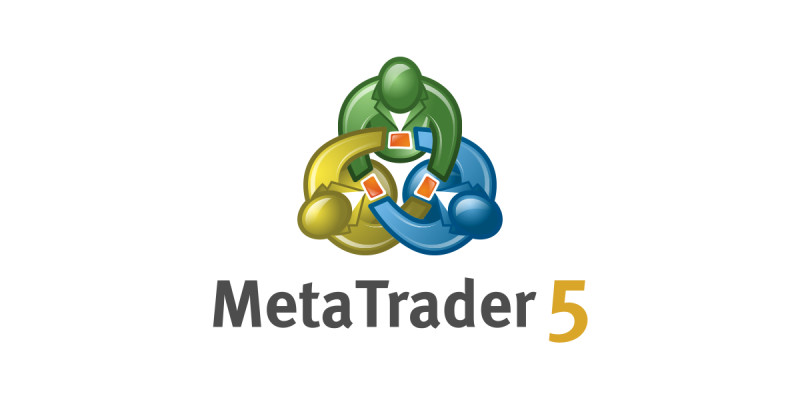 MetaTrader 5 is the most advanced platform of all MetaTrader versions.
Thousands of traders prefer it for:
convenient and high-quality technical analysis;
the opportunity to develop and test your own trading strategies;
access to Forex and the stock exchange.
Using the MT5 platform, you enjoy the full range of assets and tools for effective trading:
more than 1,000 trading instruments (currency pairs, securities, futures, commodities, cryptocurrencies, etc.);
38 technical indicators;
44 graphical objects (trendlines, channels, patterns, etc.);
unlimited number of charts and more than 20 time frames;
The Depth of Market is displayed up to the 32d line;
6 types of pending orders;
2 order accounting modes: the netting mode for exchange markets and the hedging mode for the forex market.
To dive into trading, you need to download a free platform first.
Download MetaTrader 5
MetaTrader 5 requires no additional software and no browser extensions.
5 benefits of MetaTrader 5:
1) Simple and user-friendly interface:
All functions can be found in one menu. The interface can be customized according to your needs. For example, you can add the most frequently used commands to the toolbar.
2) Indicators for fundamental analysis:
MetaTrader 5 has a built-in economic calendar, which can be used to view upcoming economic events. The calendar is regularly updated.
The platform also includes the news feed from global news agencies. It displays the news about events that can potentially influence the trajectory of the quotes.
3) Proprietary system of algorithmic trading:
MT5 supports the MQL5 programming language. With MQL5, you can develop your own trading assistants:
programs for automated trading;
additional technical indicators;
custom financial symbols (you can view charts of such symbols or perform technical analysis);
scripts (they allow to atomize any function on the platform, for example, they can cancel all pending orders);
code libraries (you can collect and save your own base of source codes).
4) Customer Support:
Unlike MT4, the 5th version of this platform has a 24/7 customer support service. Traders can get help by using the Service Desk section as well as via online chats or through the hotline.
5) MT5 offers one of the largest markets for traders.
MetaTrader Market features over 2,000 trading robots, technical indicators, and scripts.
Why is MetaTrader 5 a multi-functional platform?
You can access the MT5 platform through your PC, tablet, or smartphone.
MT5 is available in 3 versions:
desktop version is perfect for those who prefer to use computer and enjoy high performance;
web version allows you to trade with any browser and any operating systems (Windows, Mac, Linux);
mobile app allows you to trade with a smartphone or tablet.
If your gadget runs on Android, download MetaTrader 5 for Android from Google Play.
For an iOs gadget, look for the same app in the App Store.
Benefits of mobile trading
MetaTrader 5 for Android allows you to trade currencies, shares, futures, and options around the clock on any Android-based gadget.
Its functions are almost as diverse as those of the desktop version.
By downloading the mobile app, you get: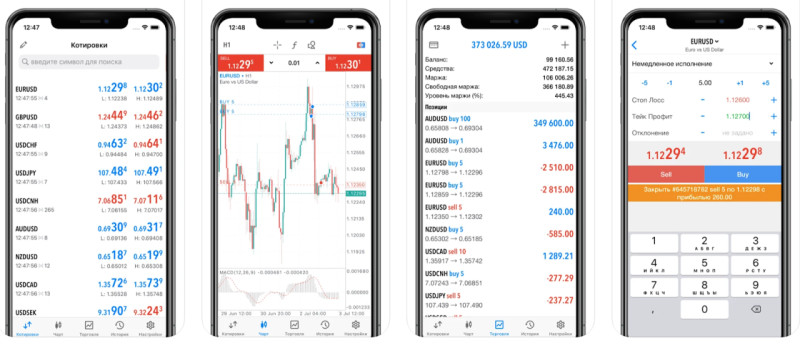 full set of indicators and graphical objects for accurate market forecasts;
interactive and easily customizable charts that can switch between time frames;
financial and economic news for fundamental analysis;
powerful and flexible trading system including Market Depth and separate accounting of trades and orders;
extended set of orders, including pending and stop orders;
One-Click Trading function;
current prices in real time;
integrated chat for communication with other traders;
alerts and push notifications.
Besides, you can easily transfer your trading account from the desktop version to the mobile app.
For this, your computer and your smartphone (tablet) must be connected to one Wi-Fi spot.
Guide to MetaTrader 5 mobile app
How to download MT5 on your smartphone or tablet?
Before installing MT5 to your smartphone or tablet, make sure that:
– your device has an Internet connection;
– your device is powered by the Android 5.0 version or higher.
Go to Google Play to download MetaTrader 5 for Android.
Getting started
1) Open the program by tapping the MetaTrader 5 icon on your device.
2) Choose the option that you need: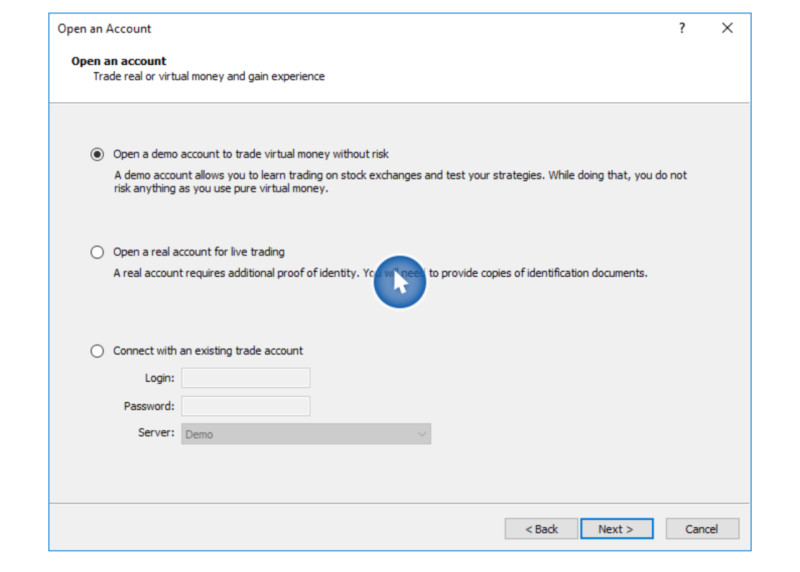 "Open a demo account";
"Open a real account";
"Log in to an existing trading account."
If within 10 seconds you don't choose an option, the app will automatically open a demo account.
3) If you have several deposits, you can manage them separately through a special Manage Accounts tab located on the side of the screen.
How to work with quotes?
In the Quotes section, you can find real-time information on financial instruments (Ask and Bid price, spread, etc). Find it on the side panel of the screen.
To add a new asset to the list, tap "+" on the top panel on the right. Choose the desired symbol from the list.
You can find more information about the instrument in the context menu of the Quotes tab. Tap on the asset's symbol to find more about its properties.
To read more about trading terms, use the Properties command in the context menu.
How to trade with mobile app?
The MT5 mobile app is designed for convenient trading on Forex and other markets.
It features a user-friendly interface with intuitive navigation. Let's go through the steps of making a trade in the app.
Open the chart of an asset in any of 3 ways:
1) Open the Chart tab in the context menu of the instrument;
2) Switch to the Chart tab from the side panel of the app
3) Tap on the candlestick symbol at the bottom of the screen.
To add an indicator to the chart, tap the "f" button on the top panel. Then choose an asset from the list or add yours.
By clicking on the "$" symbol in the top menu, you will see the list of your active quotes. Choose the instrument you want to trade.
Using a radial menu, you can switch between time frames, add lines, channels, and patterns to the chart and change chart settings. The radial menu is opened by a tap on the chart.
To open a position, tap a rectangular symbol with "+" at the top of the screen. Then tap on the screen to open a pop-up window.
Choose the desired action from the list and specify the size of the lot. You can also set Stop Loss and Take Profit.
Choose to Buy or Sell.
You can check your current active trades in the Trade tab located on the side panel. Here you can also check the current state of your trading account.
To close a position, tap on it in the Trade tab. In the window with commands, choose the Close Position option.
Step-by-step guide to MetaTrader 5 for Windows
This MT5 guide is intended for those who work with Windows.
Download the MT5 platform.
Install it to your computer, choosing the installation directory location.
To run the platform, click on the icon located on the desktop.
If you already have a live or a demo account, log in to it through a special pop-up window. If you don't have an account, please register one.
After launching the platform, get familiar with the functions you will be using most often: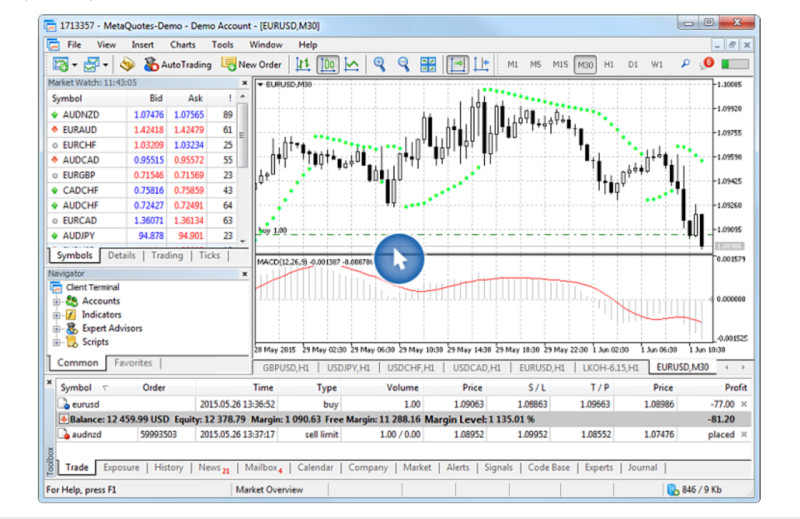 In the File tab you can:
access the root folder;
choose a trading account and connect to it;
create a new chart;
save a setup work profile.
In the View section you can:
link any financial instrument to a certain button;
customize the toolbar at the top of the chart;
adjust the settings in the Depth of Market;
choose platform language.
Through the Insert tab you can add:
technical tools and indicators;
trading robots for automated trading;
scripts.
In the Charts tab you can:
change the view of the chart or its components;
develop suitable chart templates.
The Services tab is the most multi-functional one. Here you can perform several important tasks at once:
open a new trade order;
set additional parameters for charts;
configure expert advisors;
enable/disable push notifications to mobile devices;
configure alerts of system events;
get access to libraries.
In the Window tab you can:
view the directory of all open files;
place active windows conveniently for you.
In the Help tab you can:
learn more about how the platform works, study various video tutorials and other helpful resources;
check for available software updates.
In the Market Watch window you can:
set the parameters for a new trade and open it;
view real-time quotes and other price data of the asset;
quickly add a trading instrument to your list;
arrange and sort your assets;
view fundamental and trading statistics on the instrument;
download and import price history.
In the Chart window you can:
open ready templates;
create new charts.
To move swiftly between time frames, use a special menu found at the top of the Chart window.
In the Trade section you can:
see details of open trades;
see details of account transactions;
enable the One-Click Trading function.
Signals is the section for passive investors where they can:
choose from a thousand of free or paid trading signals;
subscribe to them;
study the detailed statistics of signal providers (click on the name to view details).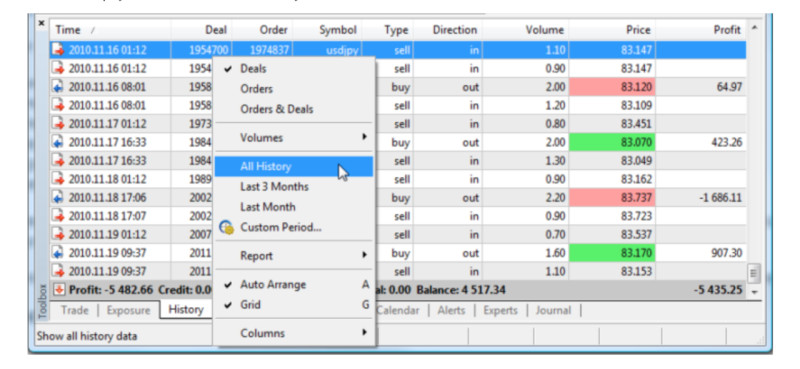 The History section shows the information on the closed trades.
How to trade on MetaTrader 5?
Trading on MT5 is similar to trading on MT4.
The only thing that makes MT5 different from its predecessor is that it features new types of orders:
"Buy Stop Limit";
"Sell Stop Limit".
How to open a new trade on MT5?
1) There are several ways to call a dialog window for order creation:
You need to click a New Order
The same is here: find a New Order and click on it.
Select a trading symbol from the list and double-click it. A pop-up window will appear.
This is the easiest way to open a trade by just pressing the hot key.
2) Add all the required details in the fields of the window.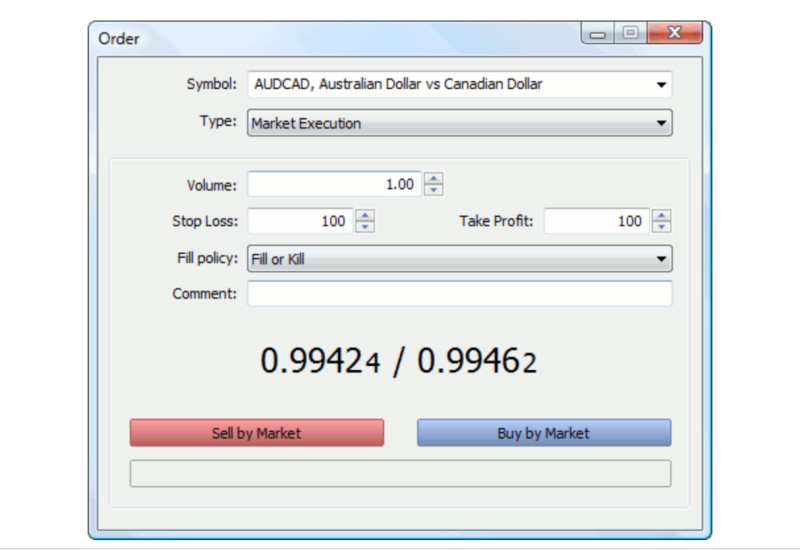 You need to specify:
the asset you are going to buy or sell;
the type of order execution (market or pending);
volume (in lots).
At this stage, you can already define the stop-loss and take-profit levels. When filling out the fields, keep in mind the following:
When buying an asset, make sure that
Take Profit should exceed the value of Stop Loss;
Stop Loss should be placed below the price at which you bought the asset.
When selling the asset, make sure that:
Stop Loss exceeds the value of Take Profit;
Stop Loss should be placed above the price at which you bought the asset.
3) Finish the order setting, by choosing the direction of the trade. If you act as a seller, choose "Sell." If you act as a buyer, choose "Buy".
How to add TP and SL to open positions?
A stop-loss order is marked on the chart as a red dotted line that passes a few pips below your placed order.
A take-profit order looks the same but it is placed above your order.
To place TP and SL to the required level, just drag them where you need;
Press OK when notification pops up.
How to trade with one click?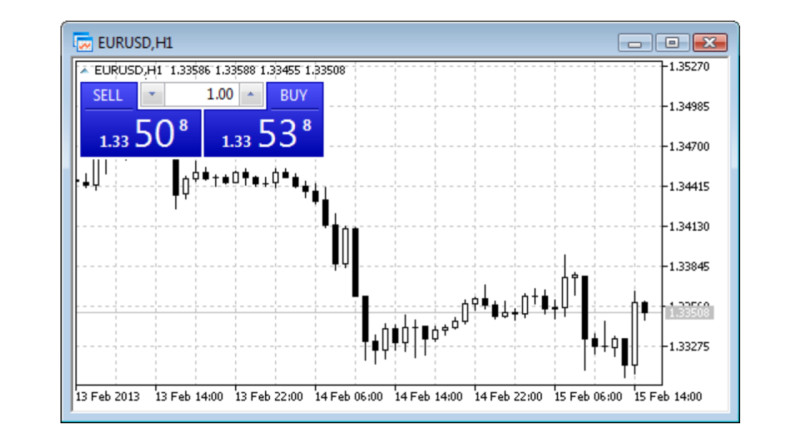 Right click on the chart to access the main menu and choose the One-Click Trading option there.
After enabling this option, you can open a trade. Just left click on the chart.
To finish the transaction, do the same with the right mouse button.
How to trade with the Depth of Market?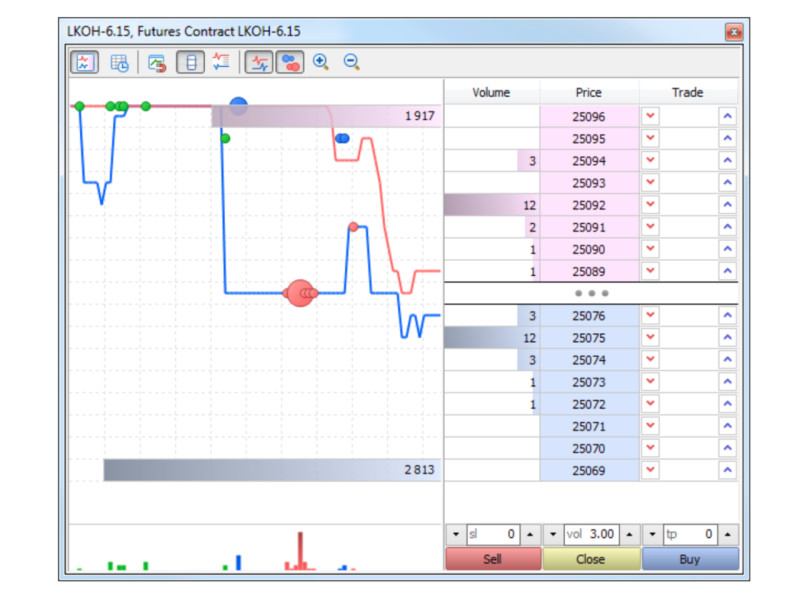 The Depth of Market displays the number of buy and sell orders for a particular instrument at the current best prices (closest to the market)
With the Depth of Market you can:
execute a trade (buy or sell a financial instrument at the current market price);
place a trade request (place an order to buy or sell a financial instrument at a specified price).
To go to the DOM, right click a trading instrument in the Market Watch window.
At the top of the window, you will see Ask prices that are usually highlighted with red.
Below are Bid prices marked in green.
The Depth of Market window has 3 columns. The first column displays the volume of orders of a particular price. The second one features the price itself. The third column shows placed orders and stop orders.
If you want to buy at a price lower than what is offered now, place a limit request to buy — Buy Limit. Click UP in the Bid price area located in the third column of the DOM.
By clicking UP in the Ask price area, you will set a Buy Stop order. This will allow you to buy an asset at a higher price than what is offered at the moment.
If you are going to sell an asset at a higher price than the current one, set a Sell Limit order by clicking on the down arrow in the Ask price area.
By clicking the down arrow in the Bid price area, you will set a Sell Stop order which will allow you to sell the asset at a lower price compared to the current one.
How to withdraw funds from MetaTrader 5
MetaTrader 5 has no function of depositing or withdrawing funds. It is your broker who is responsible for this.
This is what you need to do to withdraw funds:
Connect to your live account;
In your Client Area, choose Withdraw Funds located under the Deposit option.
Before placing a request for withdrawal, you should find out the following information:
the minimum amount allowed for withdrawal;
commissions charged by a broker or an intermediary bank.
Specify the account where you want to receive your funds.
Different brokers offer several methods to transfer your funds:
via bank transfer;
to a credit or debit card;
to e-wallets (PayPal, Neteller, or WebMoney).
As soon as the broker approves your request, money will be debited from your account and transferred by the chosen method.
A brokerage firm has the right to deny your request if you have not specified the following:
your full name;
date of birth;
home or work address;
taxpayer identification number.
The process of money withdrawal usually takes from 5 to 15 days. If you haven't received your funds by the specified date, most probably, you are dealing with scammers.
How to withdraw your funds from an unfair broker?
The most effective way is to initiate a chargeback procedure. For this you need:
File a claim at the bank where your hold the card;
The chargeback is possible only if you have deposited funds to your account with a card.
Together with the claim, provide a letter with an explanation and proof;
You can use the following screenshots as evidence:
written communication with the broker;
transfer of funds;
your account balance;
withdrawal requests that have expired;
history of transactions.
МT4 versus МT5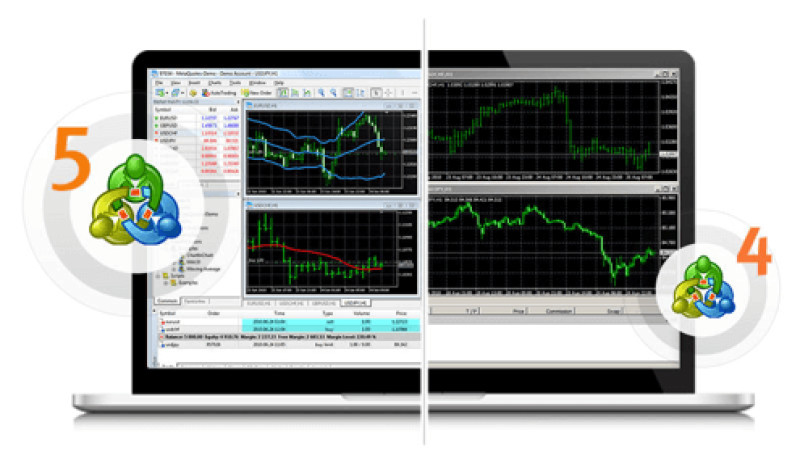 Today, we have 2 market leaders among trading platforms. Traders face a difficult choice between MetaTrader 4 and MetaTrader 5.
The 5th version was created 5 years after MT4. MetaTrader 5 was released in 2010.
It took MT5 more than 10 years to outscore MT4 in the number of clients and companies that choose it.
MT4 sales were paused in 2018. Yet, brokers still offer their clients 2 versions of the platform.
Many traders still prefer the old version. The reason behind this is that the new platform does not support Expert Advisors created for MT4.
All in all, these two platforms are very similar to each other. They both have a simple downloading process, a user-friendly interface, and quick and reliable operation.
To make a grounded choice, compare the features of MT4 and MT5.
Key features of MetaTrader 4 and MetaTrader 5:
| | | |
| --- | --- | --- |
| | MT4 | MT5 |
| Number of assets | around 250 | more than 1,000 |
| Technical indicators | 30 | 38 |
| Graphical objects | 31 | 44 |
| Depth of Market | Not available | Available |
| Time frames | 9 | 21 |
| Pending order types | 4 | 6 |
| Position accounting system | Hedging | Hedging and netting |
| Economic Calendar | No | Built in the platform |
| Strategy tester | Only single-currency tester is available | Multi-currency tester |
| Best for strategies | Not suitable for high-frequency trading | Suitable for swing and intraday trading |
| Transfer funds between accounts | Not available | Available |
| Programming language | MQL4 | MQL5 is considered to be more advanced as it offers more coding possibilities |
| Customer Support | Not available | Available |
МT5: best platform for crypto trading
You don't need to open a separate account on the crypto exchange if you want to trade digital currencies. You can trade crypto with MetaTrader 5 in the form of CFDs.
CFDs do not imply the real purchase of an asset. A trader earns on the difference between the opening and the closing value of the contract.
The majority of market participants prefer to trade Bitcoin. The most popular pairs are BTC/USD, BTC/EUR, and BTC/ETH.
The availability of CFDs in MT5 depends on your brokerage company.
Benefits of trading crypto with MetaTrader 5:
1) Convenience:
By trading with MT5, you don't need to register on a crypto exchange and open a crypto wallet.
2) High level of security:
The data exchanged between the MT5 platform and the server is carefully encrypted and compressed. Besides, the platform supports digital signatures based on the RSA algorithm.
3) Thorough approach to trading:
MT5 has built-in tools that allow traders:
analyze the crypto market;
monitor market developments;
be aware of the latest news that can affect the market;
make informed trading decisions.
4) Minimizing risks:
Traders can minimize risks by using stop-loss and take-profit orders. This way, they can stop monitoring their trades constantly.
5) Wide choice of tools for automated trading:
MT5 offers its users a large selection of Expert Advisors that can help maximize profit. Traders can also create their own programs on the platform.
6) Great start for beginners:
The crypto market is highly volatile and, therefore, dangerous for novice traders. But with MT5, beginners can try their hand at trading with a demo account.
MetaTrader 5: first-hand experience
You can often come across an ad saying that MT5 "is the most powerful tool for trading." However, it is better to read about the experience of real MT5 users.
The platform is not flawless. You will find numerous negative comments online, especially from inexperienced traders. They usually complain about:
"Unfavorable" trading conditions that "drained" their account;
"Program error" which does not allow to lock positions and leave both orders active;
Difficulties with money withdrawal from MT5;
MQL5 being too complicated for developing indicators, robots, and scripts.
Of course, not all of these reviews are fair. Let's go step by step:
1) There is no sense in blaming the platform for your mistakes. Thousands of traders are successfully working with MT5 and getting profit.
To become one of them, you should first practice trading with a demo account. On MT5, a demo account is almost similar to a real one.
The only difference is that you don't risk losing all your money. All transactions are done with virtual funds.
2) Indeed, MT5 does not allow traders to lock positions leaving both orders active. But this is definitely not a program error.
The platform does not feature this function at all. However, there is an advantage the platform offers instead.
You can trade from one account on several markets, including Forex, stock, commodities, and crypto markets.
3) Beginners are often looking for the Withdrawal option on the platform. Naturally, they can never find it.
You can withdraw funds only through your Client Area on your broker's website where you have registered an account.
4) It is true that MQL5 is more complicated than MQL4. However, beginners should avoid programming at the first stage of trading. MetaTrader 5 offers plenty of ready-to-use trading solutions.
Final thoughts
Today, MetaTrader 5 is considered the best trading platform in the industry. Users like it for its multi-functional features.
MT5 is intended for:
technical and fundamental analysis;
developing strategies and Expert Advisors;
trading Forex and other markets.
Just like MT4, MT5 boasts a simple user-friendly interface.
The main thing that distinguishes MT5 from MT4 is a wide choice of:
analytical tools and indicators;
charts and time frames;
limit orders and positions accounting system.
In addition, MetaTrader 5 features the Depth of Market and the Economic Calendar.
Another great advantage is that MT5 can be used on your desktop or mobile phone.
Your operating system is not a problem as MetaTrader 5 is suitable for all of them.
MT5 can be easily downloaded to your smartphone both for Android and iOS. In both cases, the functionality of a mobile version is as good as that of a desktop version.