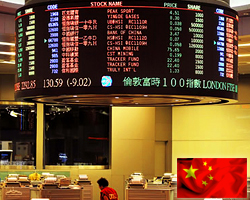 Quotes from Societe Generale Cross Asset Research:
-Reducing credit and other resources to the inefficient part of the economy is a necessary condition for China to unleash further growth potentials, so as to avoid the least desirable path similar to Japan's lost decades. However, doing the right thing is also growth negative in the near term.
-Inefficient corporates will fail, bond defaults will occur, and non-performing loans will rise. Current interbank liquidity tensions probably just mark the beginning of a period of rising financial volatility.
-The risk of a systemic financial crisis in China is still manageable in 2013, but will rise steadily going forward. Then the chance of achieving a controlled burst hinges on whether Beijing is able to liberalise the real economic sectors sufficiently and in a timely manner, by reducing the state's dominance and reforming the fiscal system.
Published: 2013-06-28 13:54:00 UTC+00