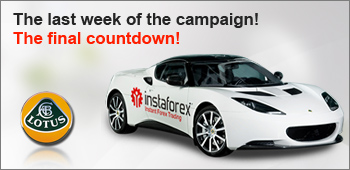 May 25, 2012, is coming! Just in a week we will learn a number of the trading account that will make its owner fly for the sheer joy of winning the main prize of InstaForex Fast Ride from the Best Broker campaign - a Lotus Evora. The campaign has been lasting for two years already, and finally, in some seven days, we will find out its outcome!
In case you have not signed up for The Fast Ride from the Best Broker yet, do not miss your last opportunity! You still have a week left until the end of the campaign. If you have been dreaming of a posh sports car produced by famous British automobile manufacturer Lotus Cars, take your chance to have it!
The campaign winner shall be determined on a random basis - by Lotus Number which includes five last digits of major currencies quotes. Even your odds right now: replenish your account with not less than 1000 USD and register for the campaign. You can also considerably increase your odds of winning by registering several accounts. One of your accounts may well bring you victory and therefore a Lotus Evora.
Hurry up, a week is still remaining to make your dream come true! On the night of 25th/26th May, the luckiest InstaForex customer will be at last figured out, the one that is destined to drive a gorgeous new sports car - a Lotus Evora!
Participate and win in campaigns and contests organized by InstaForex international broker!