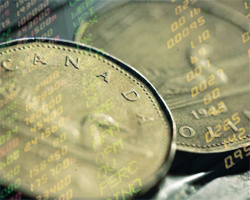 Canadian wholesale sales unexpectedly rose in February, rebounding from a decline in the previous month, official data from Statistics Canada showed Monday.
Wholesale sales rose 1.6 percent in February to C$48.5 billion, followed a 1.1 percent decline in January.
Economists predicted wholesale sales would be down 0.17 percent, but a 2.2 percent rise in volumes helped drive a monthly increase.
Auto factories were humming, as sales were up 2.7 percent to C$7.7 billion in February. Meanwhile, sales in the machinery, equipment and supplies subsector rose 1.7 percent in February.
Inventories rose 1.1 percent to C$59.0 billion in February, the 13th increase in 14 months.
Published: 2012-04-23 13:39:00 UTC+00