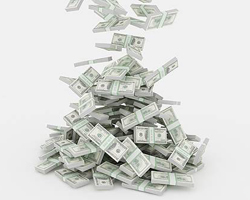 The U.S. dollar declined against its major counterparts in Asian trading on Thursday as some encouraging U.S. economic data fueled hopes for the outlook of the world's largest economy.
The dollar's slide also came ahead of the European Union leaders two-day summit in Brussels starting later in the day.
Investors are not expecting a major breakthrough at the summit even though French President Francois Hollande and German Chancellor Angela Merkel said at a meeting in Paris on Wednesday they must find ways to deepen the integration of Europe.
European Union leaders have met around 20 times to try to resolve a crisis that has spread across Europe since it began in Greece in early 2010.
The U.S. dollar that ended Wednesday's trading at 79.74 against the Japanese yen has lost 0.4 percent to hit a 2-day low of 79.38 in Asian deals. If the dollar-yen pair weakens further, it will break Tuesday's 6-day low of 79.25 and test support around the 79.0 level.
The dollar also fell to a 2-day low of 1.2525 against the euro, compared to yesterday's closing value of 1.2470. On the downside, 1.260 is seen as the next target level for the U.S. currency.
That said, caution ahead of the EU summit may weaken the euro in the coming hours though it is unlikely to break a 23-month low of 1.2290 hit in early June, as the markets have discounted the expectations that a lasting solution is unlikely to be thrashed out.
Against the Swiss franc, the dollar touched 0.9593, its lowest level in 2-days. This was down 0.4 percent from yesterday's close of 0.9634. If the dollar-franc pair weakens further, it will target the 0.956 level.
Meanwhile, the dollar slipped modestly against the pound, hitting as low as 1.5601. The next downside target level for the dollar is seen at 1.564. The pound-dollar pair ended Wednesday's trading at 1.5569.
The dollar also weakened against commodity currencies as the price of oil continued to rise in Asia to $80.58 per barrel. The greenback reached 1-week lows of 1.0129 against the Australian dollar, 0.7965 against the New Zealand dollar and 1.0234 against the Canadian dollar. If the greenback falls further, it may target 1.015 against the aussie, 0.80 against the kiwi and 1.020 against the loonie.
Looking ahead, German Federal Labor Agency's unemployment data, U.K. first quarter final GDP data and the Eurozone economic confidence index for June are scheduled for release in the upcoming hours.
The U.S. first quarter final GDP data and the weekly jobless claims for the week ended June 23 are due in the New York morning session.
Published: 2012-06-28 07:34:00 UTC+00