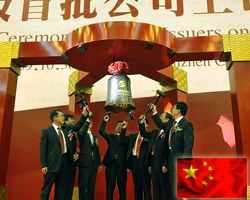 China's service sector growth slowed marginally in March, a survey by Markit Economics revealed Thursday.
The headline seasonally adjusted HSBC/Markit Business Activity Index, an indicator of activity in the service sector, fell to 53.3 in March from 53.9 in February.
A reading above 50 indicates expansion of the sector, while a reading below 50 suggests contraction. Despite the fall, the latest services index indicated notable improvement in operating conditions.
The level of new business placed at service providers rose again in March, extending the current period of growth to 40 months.
The Composite Output Index, that measures the performance of both services and manufacturing sectors, fell to 49.9 from 51.8.
The reading, which is close to the no-change mark of 50, pointed to a stagnation of business activity in the Chinese private sector, as the weakness in manufacturing offset service sector growth.
Markit's survey of the Chinese manufacturing sector, published earlier this week, showed a contraction in activity for a fifth month running. Manufacturing firms also reported a fifth successive month-on-month decline in new orders.
Published: 2012-04-05 03:51:00 UTC+00