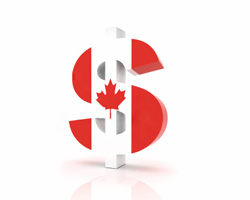 The Canadian dollar slipped against the currencies of Japan, U.S. and Australia on Friday after the release of weak domestic inflation data for June.
Statistics Canada said consumer prices rose 1.5 percent year-over-year in June, following a 1.2 percent gain in May, largely due to higher prices for the purchase of passenger vehicles and to a lesser extent, for electricity.
On a seasonally adjusted monthly basis, inflation declined 0.2 percent in June, after decreasing 0.3 percent the previous month.
Meanwhile, the Bank of Canada's core index rose 2.0 percent in the 12 months to June, following a 1.8 percent gain in May. On a monthly basis, the seasonally adjusted core index rose 0.1 percent in June, after declining 0.1 percent in May.
Against the Australian dollar, the loonie reversed its direction and fell to 1.0520 from a high of 1.0486 hit at 1:30 am ET. The pair closed yesterday's deals at 1.0509.
The loonie declined to a 4-day low of 77.58 against the yen and a 2-day low of 1.0128 against the U.S. dollar with 77.00 and 1.015 seen as the next downside target levels, respectively.
Published: 2012-07-20 14:14:00 UTC+00