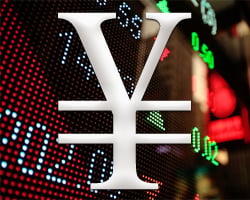 The Japanese currency extended its morning session's gain against major rivals in New York afternoon deals on Wednesday. As of now, the yen is trading near a 6-day high of 67.97 versus the NZ dollar and an 8-day high of 87.16 against the Australian dollar from European session's lows of 68.85 and 88.16, respectively.
The yen traded further higher against its most major European counterparts in today's afternoon session. At present, the Japanese unit is worth 2-day highs of 110.21 against the euro, 132.24 versus the British pound and 91.34 versus the Swiss franc from previous session's multi-month lows of 111.45, 133.53 and 92.45, respectively.
Against the US and Canadian dollars, the yen also edged down further in New York afternoon deals and currently trading near 83.45 and 84.02, respectively.
Published: 2012-03-21 18:58:00 UTC+00