| | | | |
| --- | --- | --- | --- |
| | EURUSD | 1.2848 | 1.2851 |
| | GBPUSD | 1.504 | 1.5043 |
| | USDJPY | 102.68 | 102.71 |
| | USDCHF | 0.9779 | 0.9782 |
| | USDCAD | 1.0369 | 1.0372 |
| | EURJPY | 131.93 | 131.96 |
| | EURCHF | 1.2564 | 1.2569 |
| | GBPJPY | 154.39 | 154.46 |
| | GBPCHF | 1.4708 | 1.4715 |
| | GOLD | 1367.7 | 1368.3 |
Research: US Ism Will Decelerate Slightly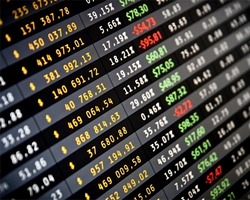 Quotes from RBC Capital Markets:
-April US ISM manufacturing PMI is the most important release scheduled for today. The regional indicators we have in hand for the month,  particularly yesterday's Chicago index, coupled with continued slowing in new orders growth, suggests that ISM will decelerate slightly.
Published: 2012-05-01 11:52:00 UTC+00
| | | |
| --- | --- | --- |
| | See also: Current support and resistance levels | |
EUR/USD
GBP/USD
USD/JPY
GBP/JPY
EUR/CHF
AUD/USD
$(this).corner("10px");
Trading Instruments
The best instruments for successful online Forex trading.