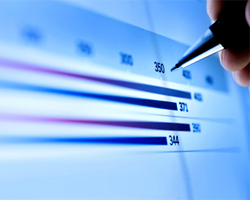 India's central bank decided to slash its key interest rates for the first time in three years, lowering them by a more-than-expected 50 basis points to support growth. At the same time, the bank signaled that inflation limits the scope for further such actions.
The Reserve Bank of India on Tuesday cut the repo rate to 8.00 percent from 8.50 percent with immediate effect. The repo rate is the rate at which the central bank lends to banks. Economists were expecting a more modest quarter point reduction.
The reverse repo, the rate at which the central bank borrows from banks, was reduced to 7.00 percent from 7.50 percent. Meanwhile, the cash reserve ratio, or CRR, was left unchanged at 4.75 percent as expected.
The RBI said that the reduction in the repo rate is based on an the assessment of growth having slowed below its post-crisis trend rate, which in turn is contributing to a moderation in core inflation.
Nevertheless, the bank acknowledged the prevalence of upside risks to inflation. "These considerations inherently limit the space for further reduction in policy rates", the bank stated.
In an attempt to provide greater a liquidity cushion, the RBI lifted the borrowing limit of banks under the marginal standing facility to 2 percent from 1 percent of their net demand and time liabilities outstanding, with immediate effect.
Accordingly, the MSF rate now stands at 9 percent. According to the RBI, liquidity conditions are steadily moving towards the comfort zone. Further, the increase in the MSF limit will provide additional liquidity comfort.
Today's decision is expected to stabilize growth around its current post-crisis trend and contain risks of inflation and inflation expectations re-surging, the bank said. Moreover, it will enhance the liquidity cushion available to the system.
The baseline GDP growth for 2012-13 is projected at 7.3 percent compared to the 7 percent estimate for the financial year ending March 2012. At the same time, WPI inflation for March 2013 is expected at 6.5 percent.
Going forward, the inflation scenario remains challenging, the bank assessed.
Inflation, based on the wholesale price index, eased to 6.89 percent in March from 6.95 percent in February. The conduct of monetary policy will continue to condition and contain the perception of inflation in the range of 4.0-4.5 percent, the bank said.
The central bank noted that financing the current account deficit will continue to pose a major challenge, given projections of lower capital flows. The current account deficit at unsustainable level should be contained, it added.
"From the perspective of vulnerabilities emerging from the fiscal and current account deficits, it is imperative for macroeconomic stability that administered prices of petroleum products are increased to reflect their true cost of production," said Governor Duvvuri Subbarao.
Pubblicato: 2012-04-17 08:41:00 UTC+00