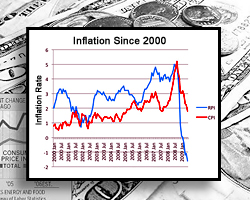 Sweden's industrial producer prices increased more than economists expected in March, data released by Statistics Sweden showed Thursday.
The output price index increased 0.2 percent on an annual basis in March, faster than the 0.1 percent rise economists forecast. Output prices of goods meant for domestic sales decreased 0.5 percent annually during the month.
Month-on-month, output prices decreased a seasonally adjusted 0.3 percent in March, in line with economists' expectations.
Export prices in Sweden advanced 0.8 percent annually in March, while they dropped 0.4 percent month-on-month. The import price index gained 2.3 percent year-on-year during the month. On a monthly basis, import prices dropped 0.3 percent.
Pubblicato: 2012-04-26 08:46:00 UTC+00