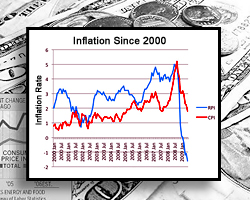 Irish factory gate inflation accelerated in March after easing marginally in February, data from the Central Statistics Office showed Tuesday.
The manufacturing output price index rose 2.6 percent year-on-year in March, faster than 2.3 percent gain in February. Month-on-month, the index remained unchanged.
Annually, the output price index for overseas sales increased 2.4 percent in March, while that for home sales rose 3 percent.
Output costs of capital goods increased 1.1 percent over the last year, while there was 2.9 percent rise in prices of energy products.
The yearly price index for mining and quarrying increased 4.2 percent and the monthly index remained unchanged, the statistical office said.
Published: 2012-04-24 11:21:00 UTC+00