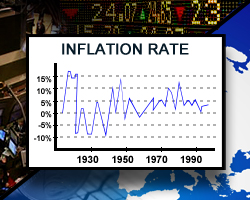 Italy's annual inflation measured under the EU methodology increased in June, contrary to economists expectations for the deceleration, preliminary data release by statistical office Istat showed Thursday.
The harmonized index of consumer prices (HICP) increased 3.6 percent on an annual basis in June, faster than the 3.5 percent gain seen in May. Economists were looking for an inflation rate of 3.4 percent.
Month-on-month, the HICP moved up 0.2 percent in June, after remaining flat in the previous month. Economists expected prices to remain unchanged sequentially.
At the same time, the consumer price inflation quickened to 3.3 percent in June from 3.2 percent in May. Economists expected inflation to remain unchanged. Compared to May, consumer prices edged up 0.2 percent during the month, while economists expected them to be flat.
Published: 2012-06-28 10:19:00 UTC+00