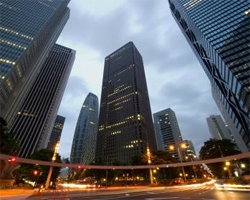 Bank of Japan Governor Masaaki Shirakawa on Thursday reiterated that the central bank is "fully committed" to pursuing powerful monetary easing to help the economy fight deflationary pressures and return to sustainable growth path.
BoJ is "fully committed to continuing powerful monetary easing through various measures, including maintaining the policy interest rate at practically zero and purchasing financial assets," Shirakawa said during a speech at the Foreign Policy Association in New York.
The Japanese economy has stagnated and the rate of growth is sub-par among the major economies, the central banker said.
Japan's failure to shake off modest deflation despite having the most expansionary financial conditions among developed economies can be explained by its deteriorating growth potential, he added.
Shirakawa said there is a need for policies aimed at both enhancing growth potential and supporting monetary stimuli if the Japanese economy is to extricate itself from deflation and return to a path of sustainable growth under price stability.
The policymaker reiterated that the bank will pursue monetary easing until the current target of CPI inflation at 1 percent is in sight.
Structural issues are everywhere in the developed economies, but central banks cannot reasonably deliver solutions to structural issues, he noted.
Publicații: 2012-04-19 03:53:00 UTC+00