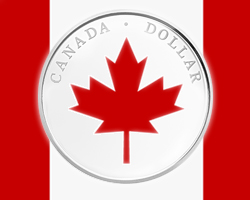 The Canadian dollar fell sharply against its major rivals on Monday following a report showed that the nation's economy unexpectedly contracted by 0.2 percent in February.
The Canadian economy unexpectedly contracted in February, due in some part to temporary mine closures and declines in manufacturing, official data showed today.
Real gross domestic product declined 0.2 percent in February, after creeping up 0.1 percent in January, Statistics Canada reported. Economists were expecting February to match January's anemic growth.
Year on year growth was only 1.6 percent, far worse than than the 2.1 percent annual growth expected by economists.
The Canadian dollar extended previous session's losses against the yen after the data, hitting below the 81.20 level for the first time since April 17. The loonie-yen pair is presently worth 81.17 with 80.50 seen as the next likely support level.
The Canadian currency also fell sharply against the currencies of the U.S. and Europe following the report, hitting as low as 0.9866 and 1.3040, respectively. This was down from a recently hit 4-day high of 1.2975 against the euro and an intra-day high of 0.9807 against the US dollar. On the downside, the loonie may find target levels at 0.9880 against the greenback and 1.3060 against the euro.
U.S. personal incomes grew slightly more than expected in March but growth in consumer spending slowed somewhat, according to figures released today by the Commerce Department.
Department figures put U.S. personal incomes up 0.4 percent in March, slightly higher than the 0.3 percent growth posted for February. Consumer spending grew 0.3 percent.
Meanwhile, the eurozone inflation slowed less-than-expected in April despite the economic downturn. Moreover, persistently high inflation is limiting the scope for the central bank to reduce interest rate so as to support the economy.
Annual inflation eased slightly to 2.6 percent from 2.7 percent in March, flash estimate issued by Eurostat showed today. Economists had forecast the rate to fall to 2.5 percent in April.
Looking ahead, the results of the Institute of Supply Management-Chicago's business survey for April are scheduled to be released at 9:45 am ET. Economists expect the business barometer index based on the survey to slip to 60.8 from 62.2 in March.
Publicații: 2012-04-30 13:56:00 UTC+00