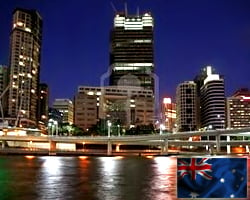 During the Asian session on Tuesday, the Australian dollar fell sharply against its key counterparts after the country's central bank slashed the main interest rate by 50 basis points to 3.75 percent.
The Reserve Bank of Australia, or RBA, today decided to cut the main interest rate by 50 basis points in a bid to support economic growth.
The rate cut was larger than expected by economists who were looking for a reduction of 25 basis points.
The size of adjustment to the cash rate was "desirable" because the financial conditions will now be easier than those which had prevailed in December, the Policy Board judged.
In economic news, Australia's manufacturing activity contracted sharply in April.
The Australian Industry Group reported today that its Performance of Manufacturing Index declined 5.6 points to 43.9.
A separate data from the Australian Bureau of Statistics showed that house prices in Australia declined for a fifth consecutive quarter in the January-March period.
The weighted average of the price index for established houses in eight capital cities fell 1.1 percent in the March quarter following a 0.7 percent drop in the December quarter. Economists had forecast a 0.5 percent fall.
The aussie touched a 6-day low of 1.0334 against the US dollar, compared to Monday's close of 1.0431. The next downside target level for the aussie is seen at 1.03.
The Australian currency touched a new 1-week low of 1.2679 against the NZ dollar, compared to a 4-day high of 1.2758 hit at 12:25 am ET. If the aussie slides further, it may target 1.26 level.
Salary and wage rates in New Zealand increased 2.1 percent for the year ending in the March quarter, Statistics NZ reported today.
Statistics NZ said for the quarter, rates increased 0.5 percent
Against the yen and the euro, the aussie dropped to near a 3-month low of 82.51 and a new 1-week low of 1.2828 with 81.5 and 1.29 seen as the next downside target levels, respectively. At Monday's close, the aussie was worth 83.27 against the yen and 1.2700 against the euro.
After reaching an 8-day high of 1.0306 against the Canadian dollar in early deals, the aussie weakened shortly thereafter. The aussie slipped to a 5-day low of 1.0214 against the loonie immediately after RBA announcement with 1.016 seen as the next downside target level.
In the European session, U.K. manufacturing PMI for April is due.
From the U.S., ISM manufacturing data for April and construction spending for March are set for release in the New York morning session.
Objavljeno: 2012-05-01 06:17:00 UTC+00