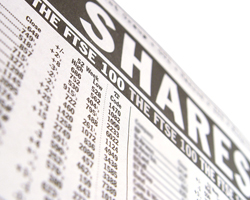 The U.K. economy unexpectedly shrank in the first quarter, entering a double-dip recession for the first time since 1970s, preliminary estimate published by the Office for National Statistics showed Wednesday.
Driven by a sharp drop in construction activity, gross domestic product declined by 0.2 percent sequentially, confounding forecast for a 0.1 percent expansion. This follows a 0.3 percent GDP decline in the fourth quarter of 2011. Two straight quarters of contraction signals a recession.
IHS Global Insight's Chief UK Economist Howard Archer said he strongly suspects that sometime down the line that the GDP data will be revised up to show modest growth in the first quarter, but by then the recession headlines will have been written.
Even if the underlying picture is stronger than what the official GDP figures show, there is no guarantee that the recent pick-up will continue, said Vicky Redwood at Capital Economics.
Output of the production industries fell 0.4 percent quarter-on-quarter after decreasing by 1.3 percent in the previous quarter. Likewise, the construction sector output dipped at a faster pace of 3 percent following the previous quarter's 0.2 percent drop.
On the other hand, the service sector output grew 0.1 percent, offsetting a decrease of 0.1 percent in the prior quarter. The service sector, accounting for the bulk of GDP, was expected to have expanded at a more robust pace.
On a yearly basis, GDP remained flat in the first quarter. Economists had expected a 0.3 percent annual growth.
The minutes of the April meeting of the Bank of England's Monetary Policy Committee showed that members did not rule out the possibility of GDP falling for three successive quarters.
In contrast to the official GDP data, the British Chambers of Commerce's Quarterly Economic survey suggested that the economy has returned to positive growth in the first quarter of 2012.
Recently the International Monetary Fund lifted its 2012 growth forecast for the U.K. to 0.8 percent, which is same as the government estimate. Chancellor George Osborne, in his budget speech, said the Office for Budget Responsibility revised up its growth forecast for the economy this year from 0.7 percent.
Uverejnené: 2012-04-25 10:55:00 UTC+00